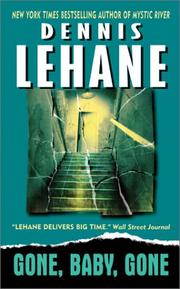 I actually got into Dennis Lehane through the movies--I watched Gone, Baby, Gone years ago (liked it), as well as Mystic River (liked it up to a point) and Shutter Island (loved it). So when I was looking for a new mystery series a few months ago, Lehane's Kenzie and Gennaro series seemed like a good choice.
I might go back and review the first three books in the series later, but
Gone, Baby, Gone
is the one freshest in my mind. If you want to keep score, though, the previous books in the series are: A Drink Before the War (loved it), Darkness, Take My Hand (well-written, but I didn't enjoy it as much), and Sacred (my favorite in the series so far).
What I really like about the Kenzie and Gennaro novels are how the events in the previous books continue to haunt the private detectives. By this novel, the pair have seen their share of violence--this series is very hard-boiled, even bleak--and want nothing more but to kick back and just take the easy cases. But then, of course, a new case (the kidnapping of a child) forces them back into dark territory. I really liked how the two struggled with even taking the case in the first place, even knowing where it could lead.
The two main characters are also extremely likable, and the mystery itself was intriguing. I also like, in general, how Lehane takes the detective novel and turns it into something literary, even poetic at times. There are some turns of phrase and metaphors that seem almost magical. The English major in me is happy with these books.
Unfortunately, I do think that the writing got carried away. At 500+ pages, it felt overwritten in many places, with what felt like pages and pages of description and inner monologues from Patrick Kenzie. It slowed the pace down much more than I prefer in a mystery novel, and especially due to the subject matter--violence against children--it felt like too much.
I'm still very much a fan of Lehane's writing, and I'd unequivocally recommend the first three books in the series. Though I'm still attached to the characters, this book was a bit of a chore to slog through. I'll be taking a bit of a break before moving on to the next book in the series, preferably with something a bit lighter.

Any other Lehane fans out there? Which book of his is your favorite?